Regular price
Sale price
$2,999
Unit price
per
Sale
Sold out
(photos for the 73 key and 88 key versions coming soon)
Our first batch of pre-orders are sold out.
Join the waitlist to get notified for future batches.
Delivery Window
Fall 2023
With real wood keys, a compact and fully-customizable weighted action, and a simple, minimal design, we've made an instrument that will take your art further than ever before.
Made by a small team of artisans, engineers, and designers, this is the start of something new.
Share
View full details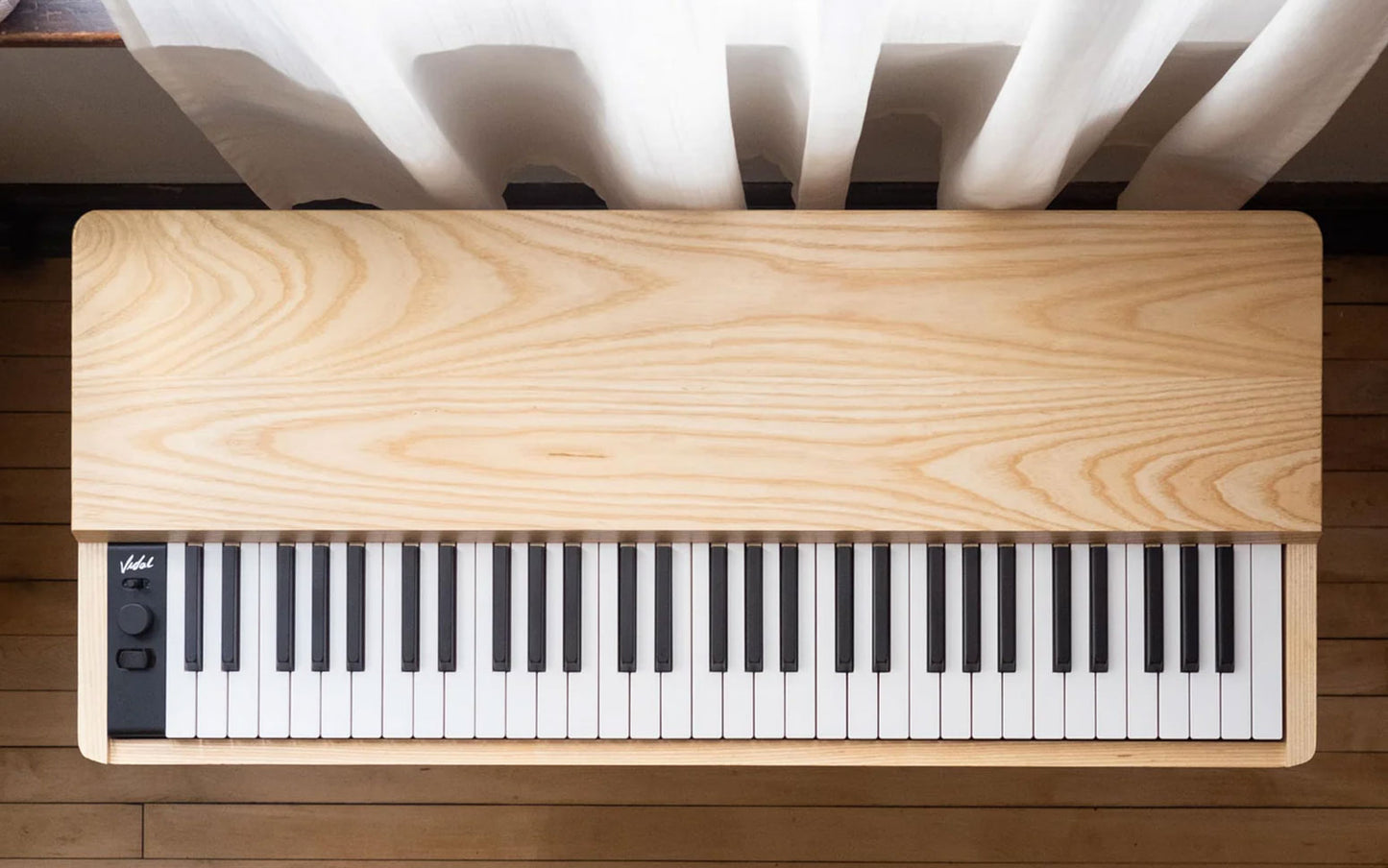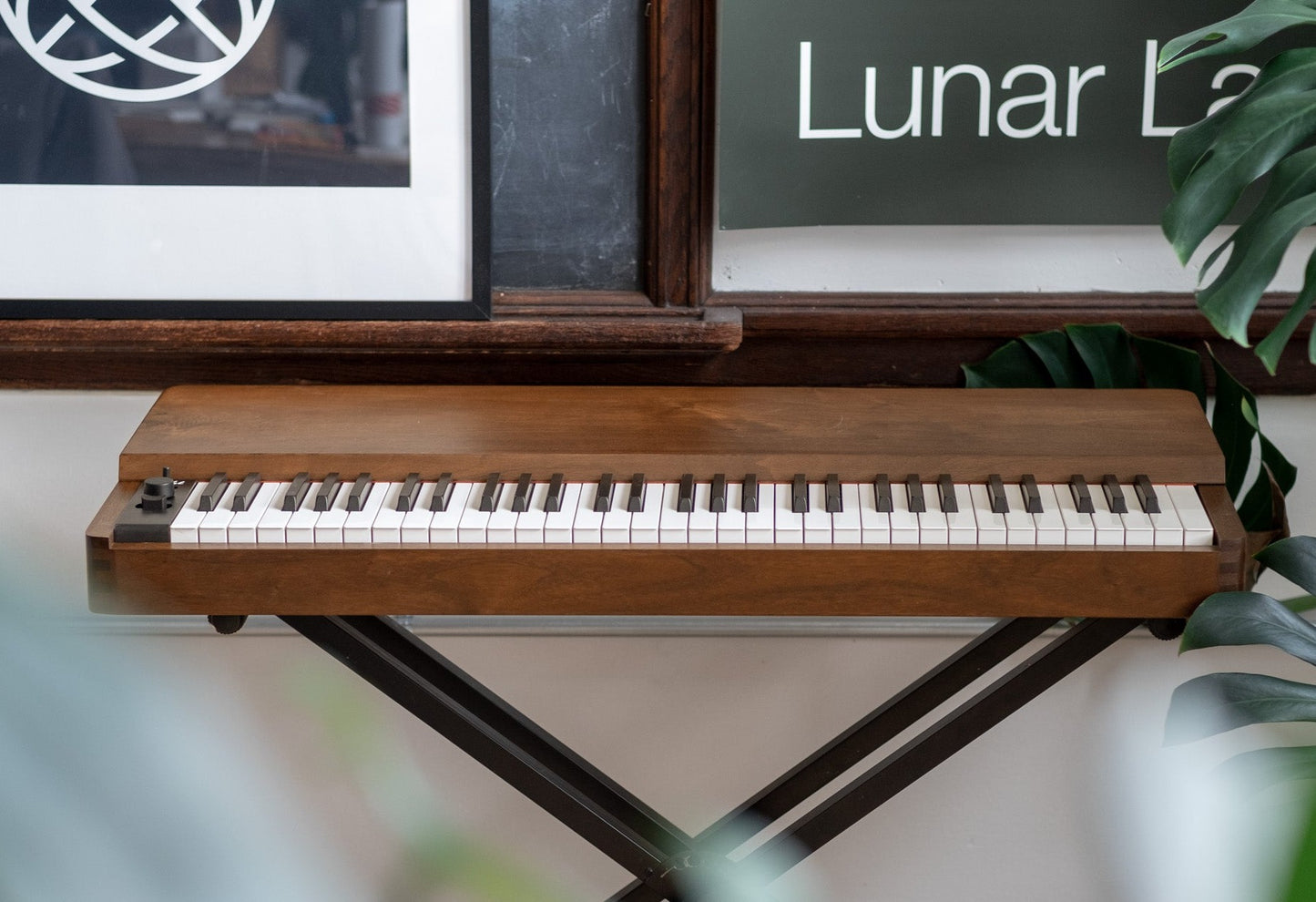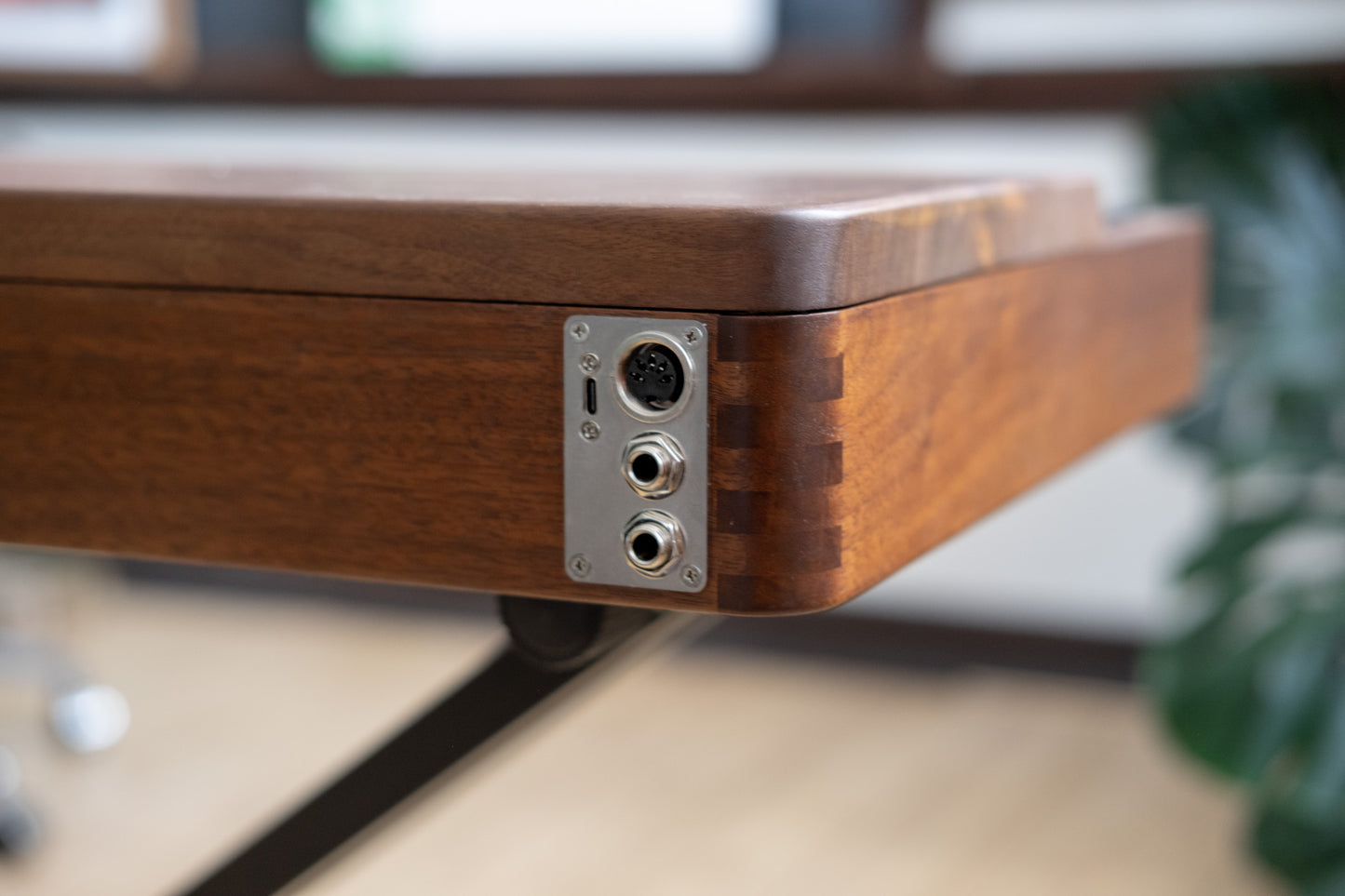 Collapsible content
Features

Design and Manufacturing

Handmade at our workshop in Philadelphia, each instrument is precisely crafted and adjusted to meet our own standards as musicians and artisans. We've sourced the same materials used in high-end concert pianos to create a MIDI controller that finally feels like a real instrument.

The keys are made from quartersawn spruce, and the case from North American ash and walnut — two beautiful, durable, and sustainable hardwoods.

Fully-Weighted Magnet Action

To more realistically re-create the weighted feel of a grand piano, we designed our own action with magnets in the keybed and adjustable steel screws in the keys. When a key comes close to the bottom of its keystroke, the magnet engages and adds a slight bit of pull to the key, making it easier to hold the key down after keydip.

This design mimics the upweight portion of the touchweight curve on a grand piano, creating a more realistic and comfortable playing experience. This means that technique built on acoustic pianos will transfer more readily to our Magnet Action keyboard, and playing it will feel more akin playing an acoustic piano than on other digital keyboards.

For more information on how our action works, you can read an in-depth article here.

Fully Adjustable Touchweight

All aspects of touchweight on our keyboard are fully adjustable, including the resistance of the springs, the force of the magnets, the height of the keys, and the timing of the MIDI sensors. As part of our assembly process, we spend time dialing in all of these adjustments to create an exact response from key to key.

We ship each keyboard with a standard regulation that we think most closely matches the feel of a grand piano, but the touchweight is fully customizable within +/- 20g. The upweight can also be adjusted via the magnet screws, giving even more precise control over the feel of the action.

For those who want to customize the feel of the keys to match their own playing style, we'll be offering tools and tutorial videos when orders start shipping this fall. Adjusting the touchweight takes about an hour and is easier than putting new strings on a guitar.

Expression Controls

| | |
| --- | --- |
| Pitch Bend | Lever, spring loaded |
| Modulation | Knob, customizable |
| Octave transpose | 3-Position Toggle Switch |
| Settings | Customizable via web app |

We've designed the simplest and most intuitive expression controls of any keyboard. A pitch lever offers natural, tactile control of pitch bend and vibrato. For modulation, we've chosen a large rotary knob that gives satisfying, precise control over parameters like filter cutoff or LFOs. We'll also be offering additional sizes of knobs so you can find a mode of expression that works best with your style.

All MIDI control settings are fully customizable via a simple web app, allowing users to adjust all features, including pitch bend range, keyboard velocity curve, MIDI channel select and splits, and octave transpose range.

Ports

| | |
| --- | --- |
| Power | USB-C |
| MIDI | 5-Pin DIN MIDI OUT |
| Data | USB-C, MIDI over USB |
| Sustain Pedal | 1/4" input |
| Expression Pedal | 1/4" input |

All ports are mounted to a steel panel and are nearly indestructible for use gigging and on tour.

First Batch Pre-Order Perks

A meticulously crafted, hand-signed and numbered keyboard from a limited batch of 50
Exclusive access to a Discord community to share feedback with the team and help shape the direction of Vidal
Chance to be selected to receive an advance keyboard for testing before regular orders start shipping

Technical Specs

| | |
| --- | --- |
| Weight | ~40 lbs (18kg) |
| Total Instrument Length | 37" (94cm) |
| Total Instrument Width | 16.5" (42cm) |
| Total Instrument Height | 3.5" (9cm) |
| Keydip | .450" standard on white keys |
| Touchweight | 60g standard, adjustable from ~40g to ~80g |
| Power | USB-C |
| MIDI | 5-Pin DIN MIDI OUT |
| Data | USB-C, MIDI over USB |
| Sustain Pedal | 1/4" input |
| Expression Pedal | 1/4" input |
| Pitch Bend | Lever, spring loaded |
| Modulation | Knob, customizable |
| Octave transpose | 3-Position Toggle Switch |
| Settings | Customizable via web app |

Pre-order Terms

This is a pre-order

We're currently only offering pre-orders for our keyboard with an estimated delivery window of Fall 2023. We've made several prototype units, but do not have any final products on hand at this time.

This is a MIDI controller / no built-in sounds

Our keyboard is a MIDI controller and does not generate any sound on its own. This means that the keyboard must be connected to a computer, synthesizer, or other sound-generating device in order to create sound.

Fulfillment window

We estimate delivery in Fall of 2023. We're able to offer such a fast delivery window for a new product due to the simplicity of manufacturing our real wood design, but we can't guarantee a delivery date for pre-orders. All orders will be filled in the order that they're received.

To complete the purchase of a keyboard, you may need to reply to a future follow-up email that could include additional costs such as shipping expenses, taxes, or import duties. We'll do our best to avoid these, but we can't know everything in advance.

Features may change

Depending on how the development process for the keyboard goes, some features may change between now and when orders start shipping. Placing a pre-order does not guarantee any specific configuration, whether aesthetic or functional.

Pre-orders can be refunded any time before production starts

You may cancel your order and receive a full refund at any time prior to the start of production. To cancel your order online, simply log in to your Shopify account, navigate to your order history, find your pre-order and click 'cancel'. You can also contact us directly at info@playvidal.com. Refunds will be processed within 7-10 business days.

The Team

Vidal is Tom Rudnitsky, a classically trained pianist and piano rebuilder, Paul Impellizeri, a bassist and web developer, and George Hilliard, a software and embedded systems engineer. Founded in 2023, we're making keyboard instruments that change the way people make music.
Choosing a selection results in a full page refresh.
Opens in a new window.